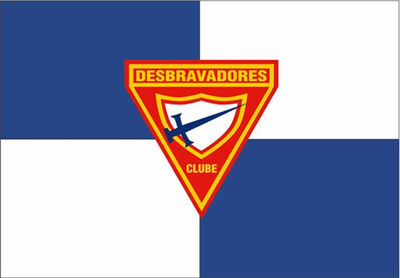 Histórico
Edit
O pastor Henry Berg, na ocasião, diretor dos jovens da Associação Central da Califórnia, foi quem projetou em 1948 a Bandeira Oficial dos Desbravadores. Cada cor da Bandeira representa uma característica dos desbravadores.
Descrição
Edit
A Bandeira do Clube de Desbravadores tem 30 cm de altura e 135 cm de largura. Ao centro, o emblema D1, de 30 cm de altura por igual a medida de largura, encontra-se no meio da bandeira. As cores das insígnias deverão ser as mesmas da insígnia pequena que se usa no uniforme. A bandeira se divide em 4 partes. Ao olhar para a bandeira o observador notará que as partes superior direita e inferior esquerda são azuis.
O nome do clube deverá ser bordado em branco no retângulo direito inferior, na fonte Arial Black, medindo 8 cm de altura por, no máximo, 50 cm de comprimento. A Bandeira para uso em escritório, sede do Clube ou Igreja, poderá ter a franja amarela de 5 cm.
A bandeira deverá ser colocada em um mastro de 2 metros de altura e 3,5 cm de expessura.
Significado
Edit
Azul

Lealdade.

Amarelo

Excelência dos nossos ideais.

Branco

Pureza.

Vermelho

Sangue de Cristo.
Símbolos:
Edit
Crescimento físico, mental e espiritual

Escudo

Defesa do cristão contra o pecado ou escudo da fé

Espada

A palavra de Deus
Veja também
Edit
Ad blocker interference detected!
Wikia is a free-to-use site that makes money from advertising. We have a modified experience for viewers using ad blockers

Wikia is not accessible if you've made further modifications. Remove the custom ad blocker rule(s) and the page will load as expected.