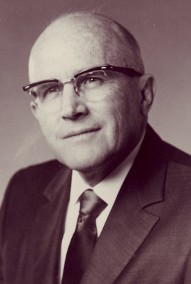 ✩ 1911
† 1989
Cargo:
Mandato:
1966-1979
Antecessor:
Sucessor:
Robert Howard Pierson (1911-1989) foi um presidente da Conferência Geral dos Adventistas do Sétimo Dia. Em 1935, ele foi trabalhar em Bombaim, Índia.
Em 1939, na Índia, ele foi ordenado pastor da Igreja Adventista. Ele retornou ao Estados Unidos em 1942 e foi nomeado para cargos administrativos da igreja. Foi eleito presidente da Conferência Geral em 1966, e serviu até sua aposentadoria em 1979.
Biografia
Edit
Ele serviu como presidente da União das Índias Ocidentais Britânicas (1944-1947), presidente da Divisão Sul da Ásia (1950-1954), presidente da Conferência de Kentucky e Tennessee (1954-1957), presidente da Conferência Texas (1957-1958 ) e presidente da Conferência Geral (1966-1979).
Publicações e teologia
Edit
Pierson foi um grande escritor. Foi autor de 28 livros, muitos deles traduzidos em vários idiomas, bem como centenas de artigos. Pierson escreveu histórias de aventura e obras devocionais.
Ad blocker interference detected!
Wikia is a free-to-use site that makes money from advertising. We have a modified experience for viewers using ad blockers

Wikia is not accessible if you've made further modifications. Remove the custom ad blocker rule(s) and the page will load as expected.