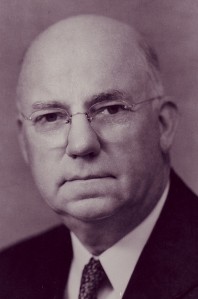 ✩ 1887
† 1961
Cargo:
Mandato:
1950-1954
Antecessor:
Sucessor:
William Henry Branson (1887 - 1961) foi um pastor e admirador da Igreja Adventista do Sétimo Dia. Ele começou a obra missionária como um colportor em 1906, e como evangelista em 1908.
Em 1920, Branson foi chamado como missionário na África, onde organizou a divisão e administrou nos anos de 1920 a 1930. Ele, então, serviu como vice-presidente da Conferência Geral em 1930 a 1946.
Em 1950, Branson foi eleito para o mais alto cargo administrativo na Igreja Adventista do Sétimo Dia - presidente da Conferência Geral. Entre suas realizações notáveis ​​estava organizando a Conferência Bíblica de 1952.
Ad blocker interference detected!
Wikia is a free-to-use site that makes money from advertising. We have a modified experience for viewers using ad blockers

Wikia is not accessible if you've made further modifications. Remove the custom ad blocker rule(s) and the page will load as expected.